This is the new sample of our company.All the structure is made by ourselves based on the materials of ISO standard 40ft shipping containers.
All the steel structure is hot galvanized and welded with protection of CO2.
We have the complete manufacturing process for our houses:
Materials purchase,inspection and preparation,team formation,welding,polishing,rust-proof and installation.

Product Ideas:
We make all the houses on the premise of our customers' benefits.
1.Reduce the package volume to save the transportation and installation cost
2.Calculate the materials reasonably to save cost
3.Increase the mechanized efficiency to save labor cost
4.Offer the most favorable price to help our customers get the competitive ability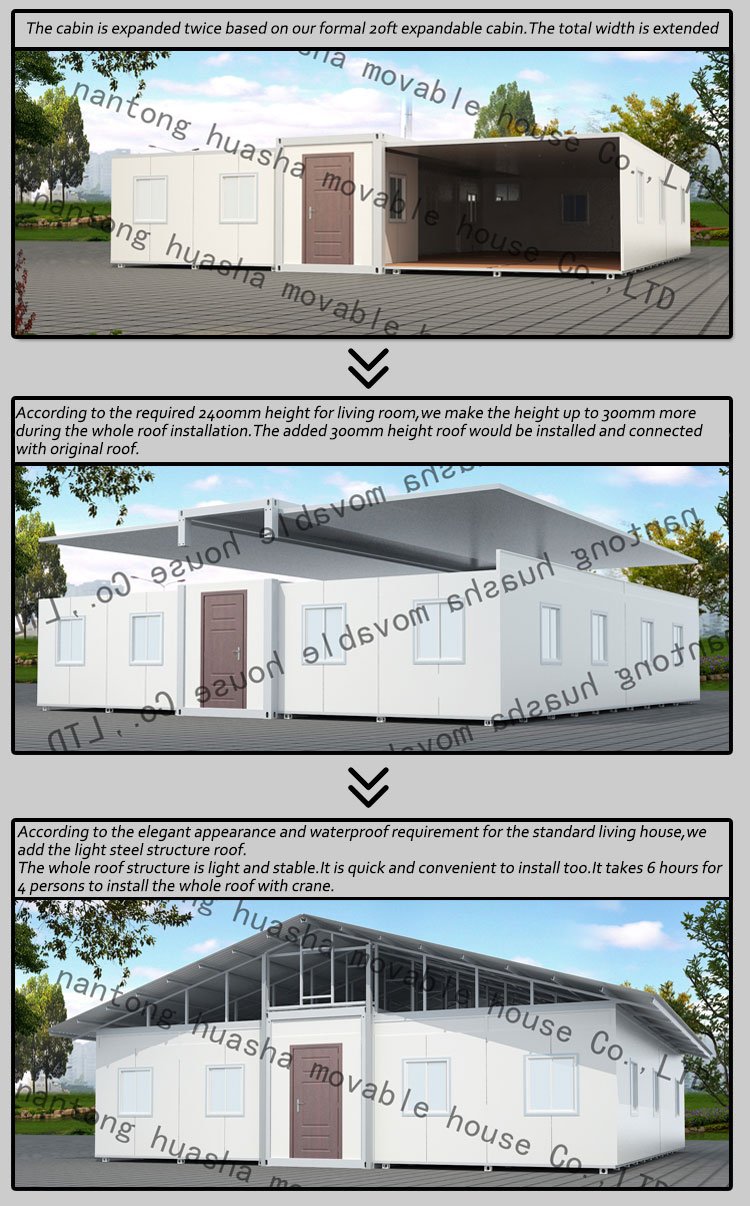 Inside Plan:
Building area about 128m2 ,contain 3 bedrooms,1 bathroom,1 open kitchen,1 large sitting room,14 aluminum alloy windows,1 small bathroom window,1 fireproof security door
Inside Height: 2400mm
Top Roof Height: 4500mm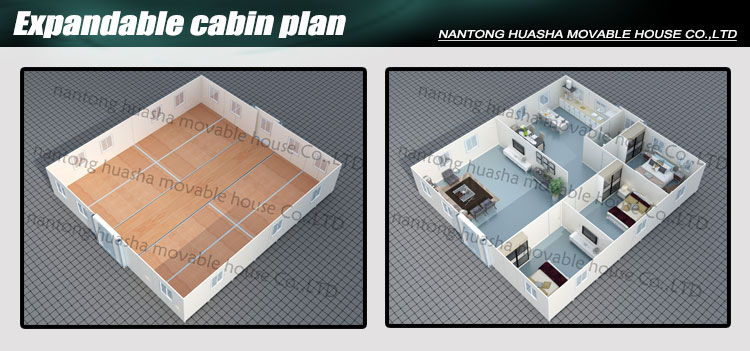 The toilet,paper holder,shower,sink,mirror,towel rack are all installed in our factory. Customers only need to connect supply and drainage pipes locally.Then the house can be used
The kitchen is open,and we can customize the kitchen cabinets,.We can also provide range hood, oven, dishwasher and such electrical appliances.
Configuration
| | |
| --- | --- |
| Measure | 10600(W)*11440(L)*4500/2500(H)mm |
| Packing size | 2200(W)*11800(L)*2500(H)mm |
| Wall panel | 50/75mm EPS/Rock wool/PU sandwich panel with double-sided 0.4mm PPGI |
| Wall cladding | 15mm PU decoration panel |
| Steel structure | 2.5~3.0mm galvanized steel structure |
| Windows | Plastic steel/Aluminum alloy double-layer hollow glass window with screens |
| Entry door | Plastic steel/Aluminum alloy double-layer hollow glass door |
| Internal door | Sandwich panel door,aluminum alloy frame, lock |
| Subfloor | 18mm multi-plywood/cement-fibre board |
| Floor | Bathroom:PVC floor/ceramic tile,other:Laminate floor |
| Bathroom | Shower,Seated Toilet,Wash Basin,Towel Rack+Mirror+Paper box |
| Kitchen | Sink with Cupboard(PVC Panel),stainless steel double sink,tap |
| Water pipe | PPR and PVC water supply and drainage pipe with fittings |
| Electric system | Switch,socket,lamp light,waterproof socket,distribution box. |
| Accessories | Paint,glass cement,floor nail,blind rivets etc. |
Interested in our products?
Our sales representatives will offer you professional services and tailored solutions.
Do not hesitate,contact us now!